Steel fibers mixed into the concrete can provide an  alternative to the provision of conventional steel bars or welded fabric in some applications. The concept has been in existence for many years (the first patent was applied for in 1874), and it has been used in a limited range of applications: among the first major uses was the patching of bomb craters in runways during World War II. However, it was during the 1970s that commercial use of this material began to gather momentum, particularly in Europe, Japan and the USA.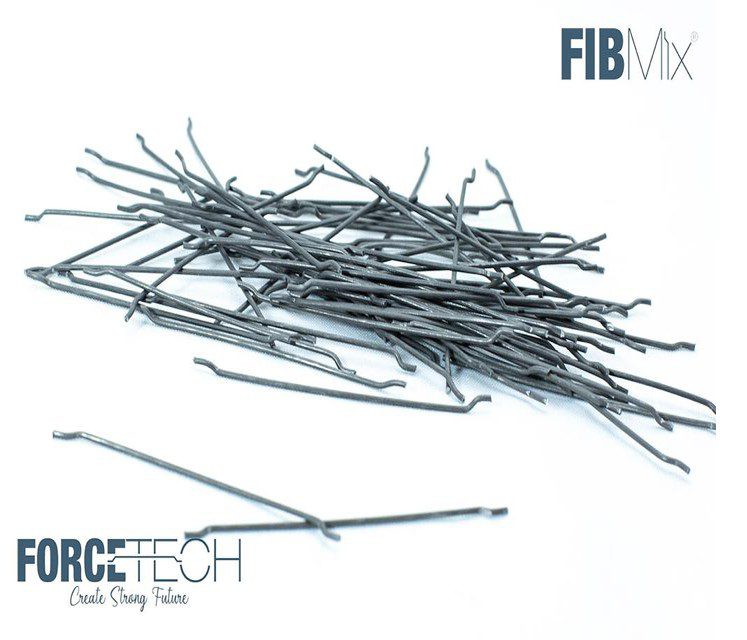 Today, industrial floors and pavements are major applications for steel-fiber-reinforced concrete. In the United Kingdom, several million m2 of steel-fiber-reinforced slabs have been installed over the past ten years, both for ground-supported and pile-supported floors. Other major applications for fiber-reinforced concrete include external paved areas, sprayed concrete, composite slabs on steel decking and precast elements.
Fibers are often used to replace the nominal conventional steel fabric in ground bearing slabs. Steel fibers are increasingly being used in suspended ground floor slabs on piles to replace much, and in many cases all, of the reinforcement. Savings in the cost of supplying and fixing the conventional welded fabric reinforcement that is replaced can offset the extra cost of adding fibers to the concrete. There may also be health and safety benefits resulting from the reduced handling of reinforcement. Also, problems caused by the misplacement of conventional steel in the depth of the slab are avoided.
Effect of Fibres Utilized with Concrete
Fiber reinforced concrete is a composite material comprised of Portland cement, aggregate, and fibers. Normal unreinforced concrete is brittle with low tensile strength and strain capacity. The function of the irregular fiber distributed randomly is to fill the cracks in the composite. Fibers are generally utilized in concrete to manage the plastic shrinkage cracking and drying shrinkage cracking. They also lessen the permeability of concrete and therefore reduce the flow of water. Some types of fibers create greater impact, abrasion and shatter resistance in the concrete. Usually, fibers do not raise the flexural concrete strength. The quantity of fibers required for a concrete mix is normally determined as a percentage of the total volume of the composite materials. The fibers are bonded to the material, and allow the fiber reinforced concrete to withstand considerable stresses during the post-cracking stage. The actual effort of the fibers is to increase concrete toughness.
During recent years, steel fiber reinforced concrete has gradually advanced from a new, rather unproven material to one which has now attained acknowledgment in numerous engineering applications. Lately, it has become more frequent to substitute steel reinforcement with steel fiber reinforced concrete. The applications of steel fiber reinforced concrete have been varied and widespread, due to which it is difficult to categorize. The most common applications are tunnel linings, slabs, and airport pavements.

This special reinforcement is called Steel fiber and the resulting concrete is steel fiber reinforced concrete. This type of concrete is widely used in abrasion suspected wearing surface.
Steel fiber concrete flooring can provide superior resistance to minimize cracks in hardened concrete, as well as maximum resistance to withstand heavy loads, either dynamic or static. If you decide to use steel fiber concrete flooring, you can select to use a 'joint-less floor'. Joint-less floors are floors that have minimal joints, providing spaces without joints as large as 40 or 50-meter span wide.
Steel fiber dosage will vary greatly upon the projects intended use, and the types of mesh being replaced. Common dosages are in the range between 20-30kg/m3 to 40-50kg/m3 for joint-less floors. Trowelling concrete will help to embed steel fibers into the concrete surface producing a better finish product. Steel fibers will enhance to crack resistance of the concrete, and they can also be used to replace or supplement structural reinforcement. It only can be done through a structural engineer and with proper guidance.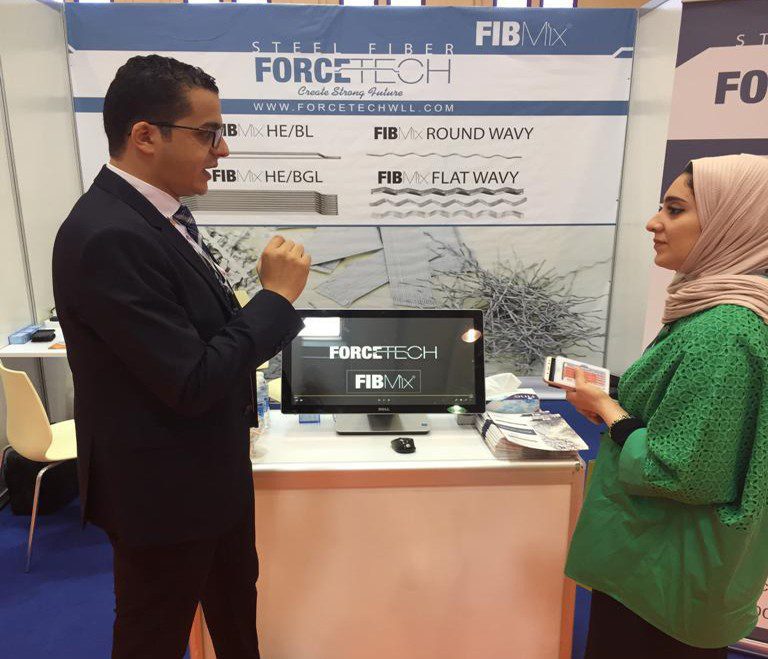 Advantages Of Steel Fiber?
Several advantages can be obtained from FIBMix Steel fiber , for example:
Concrete:
Flexural Strength: Flexural bending strength can be increased by up to 3 times more than conventional concrete.
Eliminate shrinkage cracks.
Reduce curling.
Increase in transverse and longitudinal joint spacing.
Increased load-bearing capacity of concrete to reduce the concrete slab thickness.
Load capacity is not diminished by concrete cracks.
Increased durability.
Resistance:
Fatigue Resistance: An almost 1.5-time increase in fatigue strength.
Abrasion Resistance: More effective composition against abrasion and spalling.
Resistance to cavitation or erosion damage.
Increased impact resistance.
Improved flexural properties.
Resistance to freezing and thaw
Cost & Timing:
Reduced site labor for managing steel reinforcement.
Decrease in project cost.
Even distribution of fibers throughout the concrete.
Reduction in maintenance and repair cost.
Can be used to fast track schedule.
Easier positioning of joints.
Multiple cost-saving advantages.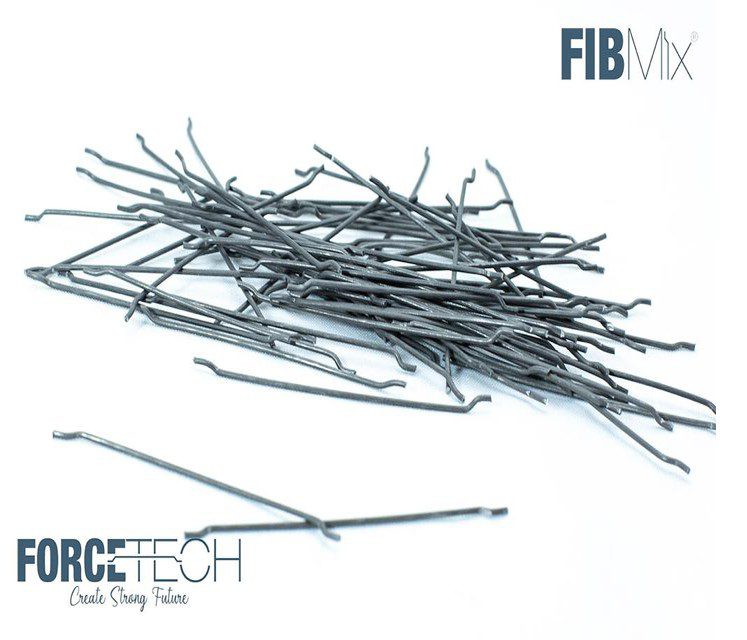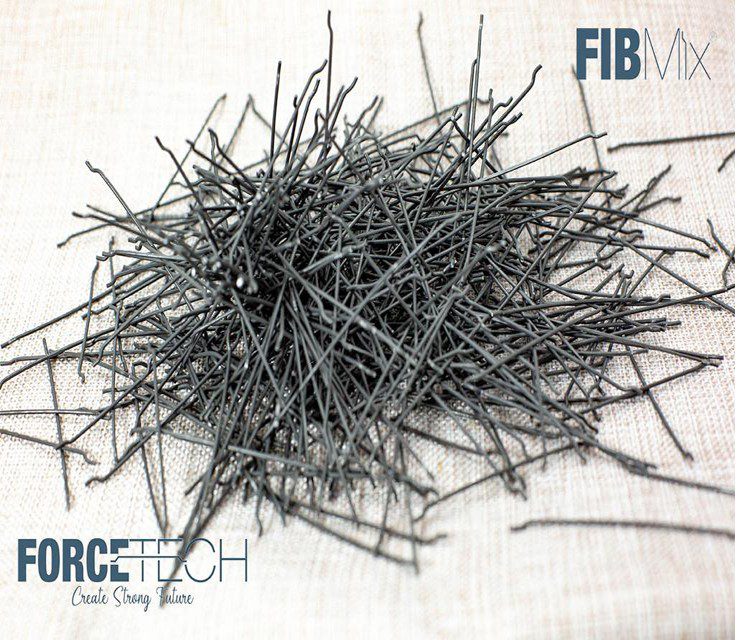 Environmental:
Reduced absorption of water, chemicals, etc.
Reduces surface permeability, dust
Quality & Durability:
Tougher surface with fewer bleed holes.
Preventing/delaying crack propagation.
SFRC distributes localized stresses.
SFRC acts as a crack arrestor.
Provides tough and durable surfaces.
Increases tensile strength and durability.
The uses of Steel fiber in concrete can improve its many properties. The benefits of using Steel fibers in concrete are as follows:
Steel fibers are generally distributed throughout a given cross-section, whereas reinforcing bars or wires are placed only where required.
Steel fibers are relatively short and closely spaced as compared with continuous reinforcing bars of wires.
It is generally not possible to achieve the same area of reinforcement to an area of concrete using steel fibers as compared to using a network of reinforcing bars of wires.
Steel fibers are typically added to concrete in low volume dosages (often less than 1%), and be effective in reducing plastic shrinkage cracking.
Steel fibers typically do not significantly alter free shrinkage of concrete, however, at high enough dosages they can increase the resistance to cracking and decrease crack width.