We provide a comprehensive solution to our customers starting from concept developing to commissioning.
Our credentials demonstrate our skills and competencies in designing and executing
a wide range of Fire Protection and Fire Alarm Systems.
We service companies and institutions whether within the Government, Semi-government or in the private sector.
Our services cover designing, supplying, installing, testing, and commissioning of Fire Protection and Fire Alarm Systems.
The systems we execute include, for example, FM-200, CO2, Sprinkler, Deluge, Foam System, Addressable as well as the Conventional Fire Alarm Systems.
Our growth strategy is demonstrated through our continuous expansion and success.
This expansion is part of a series of expansion that we are planning to implement to tap into the market needs and achieve the desired efficiency level.
Our objectives remain to provide our customers with top tier services because we look at them as long term partners.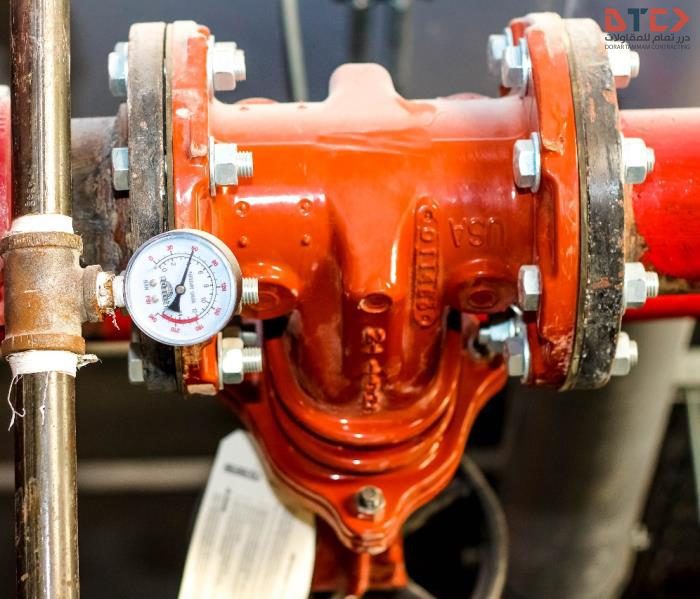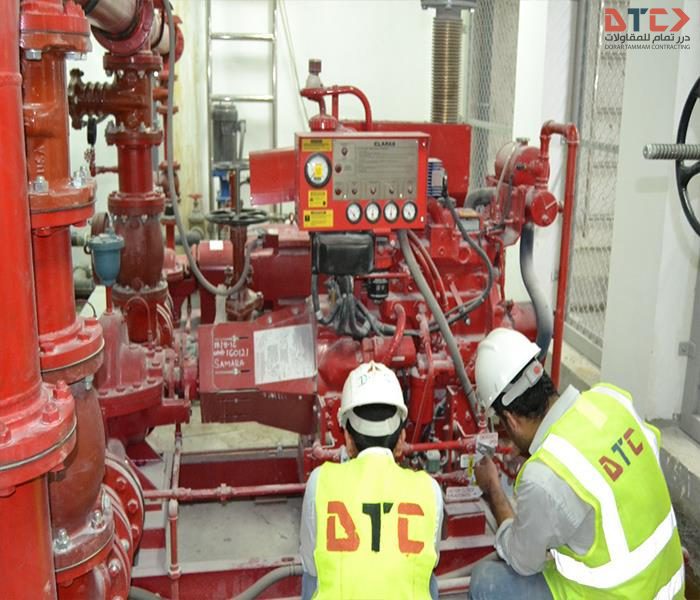 We have dedicated a special division for maintenance of fire protection systems.
This is based on our strong belief in the importance of providing comprehensive solutions to our customers.
We can supply and install the following:
Fire Fighting Equipment
Fire Pumps & Controllers
Fire Protection System
Fire Doors Passive
Fire Protection Trucks & Vehicles
Medical Safety & Rescue Training
Fire Hydrant & Monitors
Fire Hose Reels and Cabinets
Sprinkler Skid
Deluge Skid
Foam Skid
FM200 Systems
NOVEC Systems
CO2 Systems
Inergen Systems
Fire Alarm & Gas detection
Kitchen Hood
Foam blending
Supply and install of Fire extinguishers to meet every type of emergency.
We install the following types of fire extinguishers:
CO₂
Dry Powder
Water
Foam
Clean Agent and Wet
Chemical.
REELS & CABINETS
DTC supply and install fire hose reels and fire hose cabinets for customers.
All of our suppliers Reels and cabinets have been tested and certified by The following: BSI, FM, LPCB, Global Mark and UL.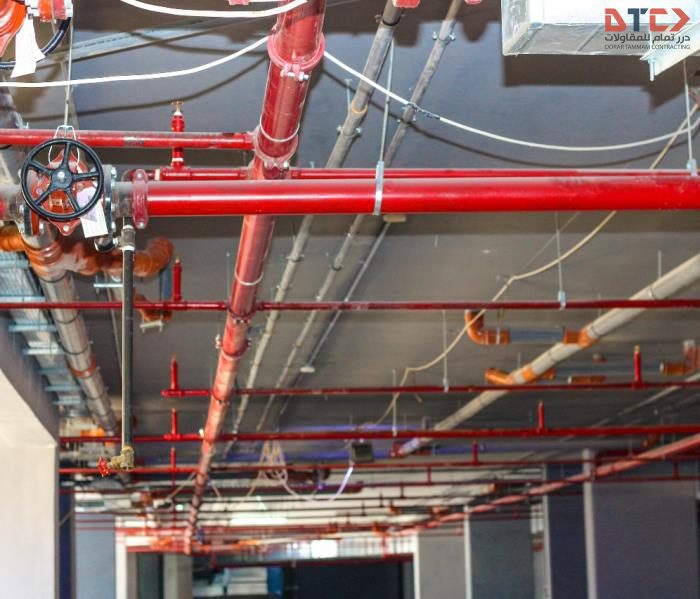 VALVES & RISERS
We can supply and install the largest of landing valves, breeching inlets and angle hose valves. All of our suppliers are suitable for a range of dry risers and will play an important role in your fire defense.
FIRE HYDRANTS
DTC supply and install the largest selection of fire hydrants for our clients and the.
High-performance fire hydrants are vital for combating fires as they provide a ready supply of water. Our supplier's fire hydrants have been certified
international laboratory.
Fire Pumps & Controllers
DTC will supply custom design fire pumps to meet the requirements of your building. Every building has its own unique fire protection needs and we will tailor every product to your needs.
CERTIFIED FIRE PUMPS
CUSTOM DESIGNED FIRE PUMPS
CUSTOM DESIGNED FIRE PUMPS
Industrial Packaged Fire Pump Sets
Sea Water Packaged Fire Pump Sets
Custom Configured
Packaged Fire Pump Sets
Fire Protection System
WATER-BASED SYSTEM
DTC suppliers provides water based sprinkler systems for properties. Wet sprinkler systems are essential in buildings as they will help prevent the spread of fires while saving lives and properties. Our sprinklers are equipped with the latest technology and will respond quickly in the event of a fire.
GAS-BASED
EXTINGUISHING SYSTEM
DTC can supply and install the best selection of gas-based extinguishing systems as part of our firefighting solutions for companies. We can provide
Clean Agent Fire Suppression Systems
CO2 Systems.
FOAM-BASED EXTINGUISHING SYSTEM
DTC can supply and install Foam-Based Extinguishing Systems to meet the requirements of our customers in the firefighting industry.
Our suppliers systems have been certified by FM and UL and will provide excellent protection.
We can supply and install
Mobile foam concentrates
Proportioning devices
Discharge devices
Mobile foam equipment.
Powder-based
Extinguishing System
DTC supply and install Fire Suppression System is a pre-engineered, cartridge-operated dry chemical system with either a fixed nozzle distribution network or with hand hose line system.
The system is capable of automatic detection and when a fire is detected, the system is actuated either manually or automatically, operating the Cartridge cylinder valve. This operation pressurizes and fluidizes the dry chemical extinguishing agent in the tank, ruptures the burst disc when the required pressure is reached, and propels the dry chemical through network of distribution hose line system (manually operated) or through fixed nozzles and into the protected areas, suppressing the fire.
DTC supply fire suppression system is capable of providing local application hazard protection for mobile equipment and industrial Hazards. In certain industrial hazards, total flooding can be used. WET CHEMICAL FIRE SUPPRESSION SYSTEM DTC offers Wet Chemical Fire Suppression Systems for kitchens of all sizes. Kitchens are high-risk environments where fires could have a drastic impact on lives and business. DTC supplier's supply suppression systems that will be tailored to your kitchen and are suitable for industrial distribution.