Our highly skilled erection team and experienced rngineers are regularly undergoing trainings with the necessary Health, Safety and Environmental procedures and other method and practices that conforms to international standard requirement in the construction industry.
DTC steel name is undeniably become synonymous to «Excellent Partener» in providing high quality construction works to major and internationally renowned Engineering, Procurement and Construction (EPC) companies in the region.
We are expert steel erectors. We can erect anything, anywhere, no matter what! We always find the best possible way to erect a project. Saving time, money, & lots of headaches.
DTC steel have facilities have the capacity to manufacture and supply:
Pre-Engineered Steel Buildings (PEBs)
Hot Rolled Steel Structures
Structural Steel Products
Building Accessories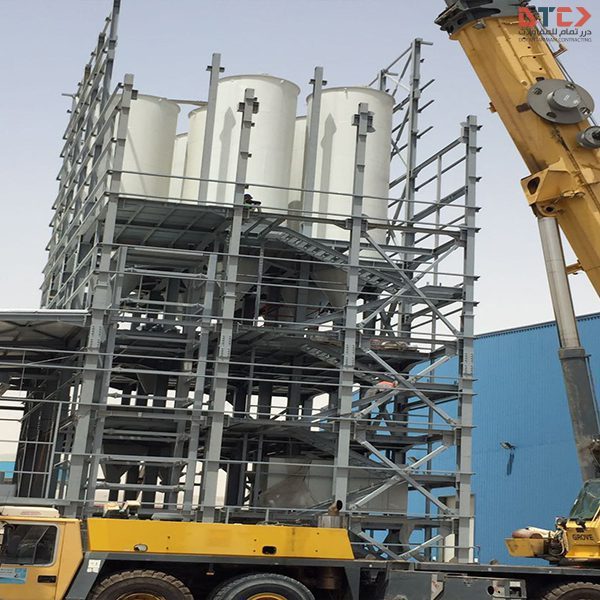 The Team DTC steel is committed to provide fastest response to Requests for Quotes (RFQs), fastest delivery, attention to details and unmatched customer services during all phases of interaction with the customers.
DTC steel outperforms all other players in the industry in the following performance matrix:
Blast cleaning of all paintable steel with SA 2.0 minimum
Epoxy coating using top quality primer for ensuring long life of buildings
Anti-Corrosive galvanized purlins and girts
Detailed and illustrative design calculations and drawings
Brand new supreme quality raw material
100% compliance with latest applicable codes to make use of latest developments in the industry
Extended guarantees and warranties to give confidence to customers
Water tight panels through selection of the most appropriate profiles
Aesthetically pleasing buildings due to the use of long trims and end laps
Daily updates to customers on the status of customers' ordered
Technical support in pre-sales, during sales and post-sales stages
High quality, timely delivery and satisfied customers have been the key to our success. We have worked hard to establish a long-term business relationship with our customers who have responded by coming back repeatedly for their project requirements. If you are one of these customers, welcome back. If you have not previously worked with DTC steel, we would be delighted to hear from you and look forward to serving you.
DTC steel invites you to take advantage of the above and involve the DTC steel team right from the concept stage so that each project is conceived and realized in such a way that it provides maximum return to the investment while keeping all the possible economies at work. Each project of DTC steel is treated as a unique opportunity to create value for the customer and the company